Greetings,
As most of you know, I live in the great NYC area. We are experiencing a perfect sunny day with mild temperatures. Soon, I will be taking my outdoor shoes for a walk in the park, with yogic breathing, followed by gentle asana practice.
Yes, today is Spring Equinox 🌱- day and night are equal in length- the sun aligns with the Equator. I am obsessed with Spring, flowers, extra light, plants and birds.
Spring is also an ideal time for a reset, reboot of the digestive system, with a gentle detox program, inspired in Ayurveda- the sister science of Yoga.
A detox or cleanse, done in Spring, is an ultimate act of self-care, promoting strengthening of the digestive system, increased energy and mental clarity.
My intention for an Ayurvedic inspired detox is to attain internal balance, just like it naturally happens during a Spring Equinox.
Mindfulness is the key ingredient, as we become more aware of habits, a pause to create new ones promote better health and wellbeing.
I offer 1:1 coaching for Spring 2022.
Very limited spots available. If you are interest in learning more, don't hesitate to reach out.
In the mean time enjoy one of of the seasonal recipes.
A simple and ease to prepare, super delicious:
Lentil Soup with Ginger.
1/2 Cup yellow split mung dal
1/2 cup red lentils
3/4 teaspoon ground turmeric
1/4 teaspoon ground cardamon
1 tablespoon ground ginger
1 teaspoon fennel( seeds)
2 teaspoons olive oil
dash cayenne pepper to taste
salt to taste
ground pepper to taste
garnishes:
arugula, cilantro or parsley
2 teaspoons fresh lime juice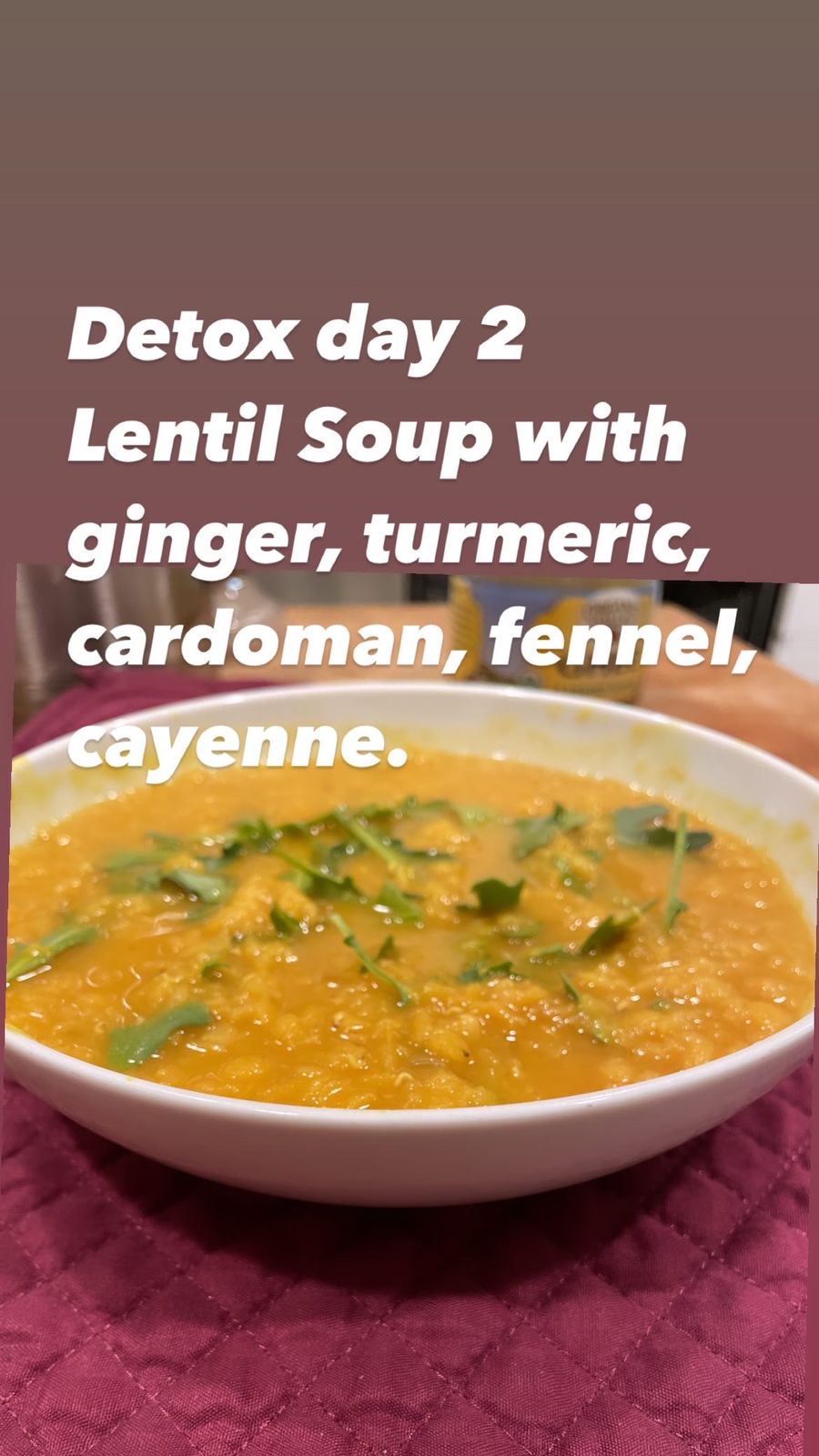 Directions:
Wash the lentils well. Wash again.
Combine the lentils with 4 cups of water in a sauce pan.
Bring to a full boil. Remove any froth from the surface.
Add all ingredients. Mix well. Reduce heat.
About 20 to 30 min, add more water if needed.
Garnish.
Serve hot, it is so yummy...
To learn more about my recipe posts during Detox 2022, follow my instagram account in stories.
love,
Regina